Our Education Day Package includes content for 9 class periods alongside a timeline for activities. Should you choose to follow our recommendations with regards to timeframes, the material is enough to cover an entire school day and would require minimal planning time. Each period includes educational information, activity sheets for the students, and instruction sheets for the educator. Topics include, but are not limited to law and order, heraldry, fight tournaments, and medieval medicine.
Please reach out to our Education Day Team at education@robininthehood.com if you have any questions or would like more information as to how to purchase a package.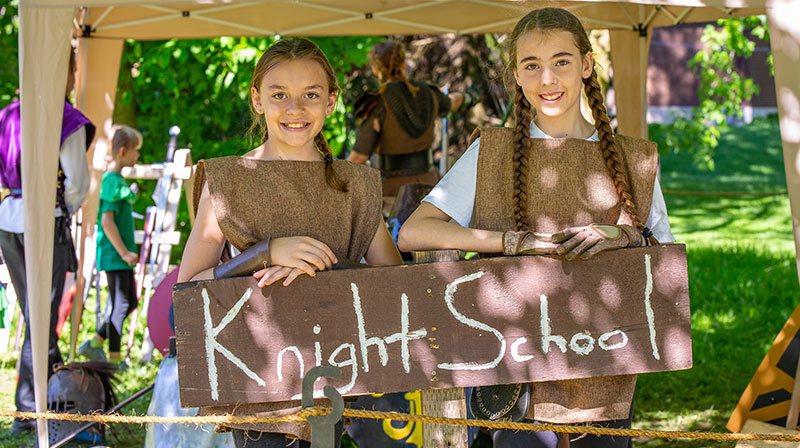 Friday, June 4th, 2021
Advanced Registration only. 
General Public please attend our Festival Day
Before opening our gates to the public on Saturday, the Robin in the Hood Medieval Festival hosts an annual Education Day geared towards grade 4 students studying medieval history as part of their school curriculum. Welcoming all educational groups from public and private school boards as well as home school groups, we host over 1000 students annually giving them a chance to experience what life was like in the Middle Ages.
The students will participate in six workshops throughout the day, as well as experience three tournaments to start the morning, to enjoy over lunch and to wrap up the day. Past workshops have included participation in medieval song and dance, hands on medieval armour and weapons, learning about birds of prey (with real vultures, owls, and falcons), and many more exciting activities. During the tournaments students can cheer on their favourite knights as they engage in combat in our center ring.
The cost for the event is $10 per student with free admission for all teachers, supervisors, and parent volunteers.
Information packages for our Education Day are sent out annually at the beginning of March. 
We accept schools on a first-come, first-served basis and typically fill up quickly once registration begins. We encourage those interested in booking as soon as possible to avoid disappointment.
If you have any questions or you are interested in having your name put on our e-mail list to receive a registration package, please contact our Education Day Coordinator at education@robininthehood.com.